Al and I have been in a weight loss contest for the last 4 weeks and have had successful weight loss every week. I think one reason is that we never deprive ourselves of anything. Let me also add that I had a lot of chocolate pie last week (father-in-law's birthday) and lots of my infamous chocolate cupcake icing (again for father-in-law's birthday) and I still lost 1.8 last week! You cannot deprive yourself while losing weight - you'll just sabotage yourself later on...and I am a chocoholic...MUST. HAVE. CHOCOLATE. EVERYDAY!!!! Anyway, Al and I also love pizza and started creating these mini pizzas some time ago. They are delish when you're watching what you are eating!

Start with Thomas' Light Multi-Grain English Muffins - only 100 calories! Top with your favorite spaghetti sauce or tomato sauce - just a few calories there. Add your toppings...we like to use red and green bell peppers:



We add a little Garli Ghetti to our pizzas. Found this stuff at the O.C. Fair and LOVE it!!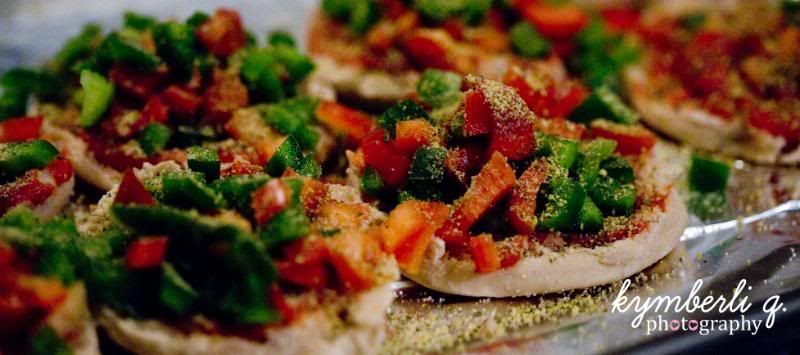 Stick them in the oven at 350 degrees for about 15 minutes and then take them out and add some fat free cheese. I think it's about 25 calories a slice and we use the sharp cheddar for more flavor. Stick them in the oven for another couple of minutes: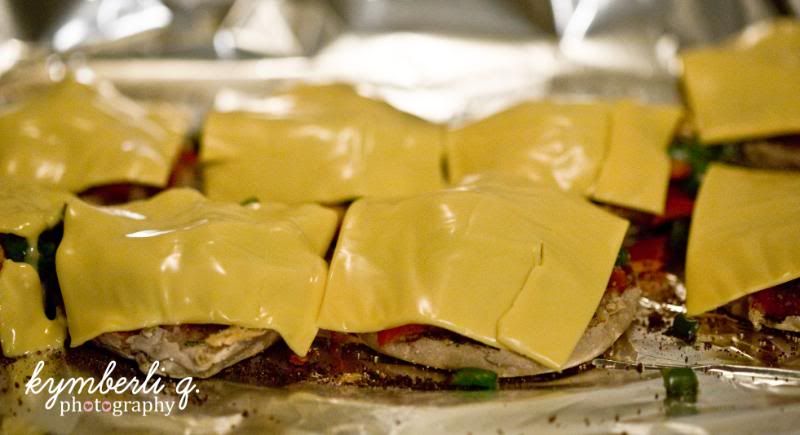 Take them out...ta da...light mini pizzas! :)