As I mentioned last week, I've been bit by the craft bug. All I want to do is paint, glue, cut, sew, etc... I need to finish editing some photos in between my projects...starting TONIGHT! :/

Today I did a bit of thrifting at two different stores. One was a thrift store and one was an 'upcycle' store - lots of odds and ends and bits and pieces to choose from to upcycle. I'm really curious and excited as to what I can create.

Thrift store find - hubby's Halloween costume: clown. Good thing he's a good sport, he was all for it (and you can't beat the $5 price tag!). I'm going to be a Hippie Chick with the hippie costume. I've never wanted to be a hippie chick, but I couldn't pass it up. I figure I have one more year to just do or be whatever and next year I'll REALLY be dressing up with a almost-4-year old then. This year she's really not going to care what I am. ;) So Hippie Chick it is - pants, shirt, vest, glasses AND tambourine!! All for $8! Also got my baby girl this cute owl shirt in her size - $1!



A little bit of ruffle, cookie cutters to use for painting, LIFE money for a project, cute scraps of paper for another project, a ruler and bottle caps for another project. Oh yes, there's a whole market for bottle cap crafts. If you don't believe me, look it up on Etsy.



Some brand new scrapbook supplies and comic books - both for craft projects. :)



These FANTASTIC real photographs. I have a few more but don't want to share them all at once. I love these. Most of them have great composition, but the clothes, the emotions, the people...just love. That little boy on the bottom left? Yep, he's wearing roller skates. Didn't even notice - hubby did!



For another project - old record sleeves. Um, 1965 old. Thank ya, thank ya very much. ;)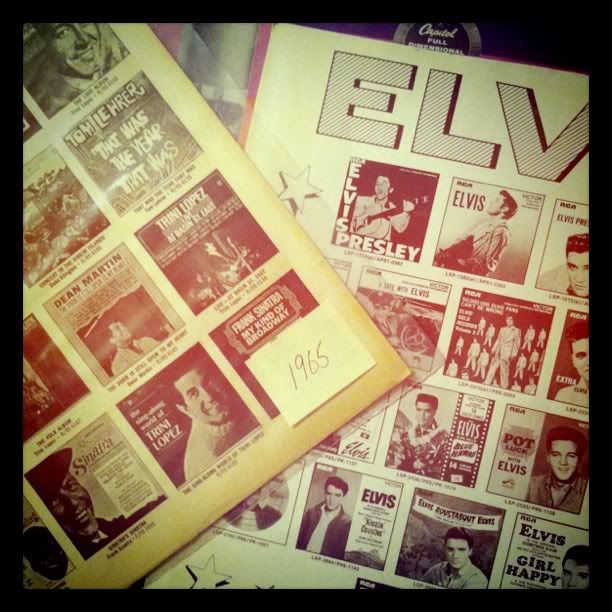 All that above and a little bit more for $7.00...which will hopefully turn into some profit in the near future. ;)