I'm a country girl. Well, I was born and raised in the city, have been on a horse just a handful of times, have never had to get up in the early morning to milk the cows, but I still consider myself a country girl.

I love when we go back and visit my husband's hometown. It's full of fields, two lane roads, barns, horses and cows. Lots and lots of cows. I'm in Heaven. He thinks it's crazy that I just want to spend hours driving around and looking at cows and taking pictures of barns and deserted houses. It's just a different life that I've never know and it makes my heart happy. Here's one of my favorite images from our last trip:



Country music also makes my heart happy. Don't get me wrong, I love my Eminem, Nickelback and Timbaland during treadmill sessions at the gym, but I love, love, love country music. I've pretty much seen every artist in concert - probably a few times. I also love a good country bar and line dancing, which brings me to Christian Simmons and Miss Jessica.

I got divorced about eight years ago and it was a very difficult time in my life. I'm not sure what made me do it, but one day I wanted to wrap myself in things that made me happy so I decided to head on out to a country bar. Alone.

Over the years I've learned how to line dance, cowboy cha cha and two step, but I've also made some great friends. Some of my best friends are those that I met through country bars. It was hard to go alone and meet people, but I'm so glad I did.

I met Christian Simmons and Jessica at Cowboy Country. I loved his voice and some of his original songs. I introduced myself one night and the rest was history. I've helped them sell merchandise at a festival, at Cowboy Country and almost went on a little tour with them to help sell merchandise when they opened for artists such as Reba, Brad Paisley, Trace Adkins and Toby Keith. He's also been featured in Country Weekly magazine - my husband took the photo!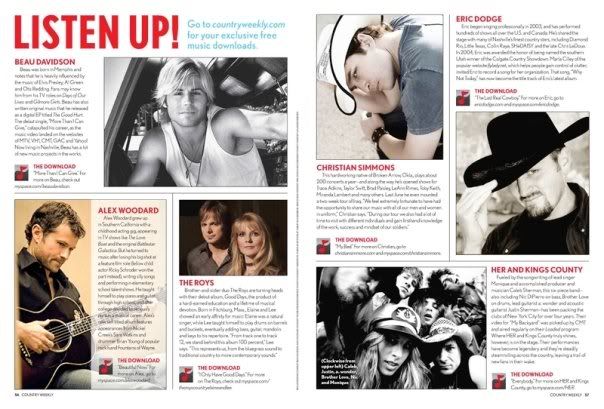 I've joked many a time telling him to remember the little people when he makes it big - I expect a seat in one of the first five rows! I know that one day I'm going to be driving down a crowded freeway and hear this Broken Arrow, Oklahoma country boy come over the radio. I'll probably scream. Then I'll say, "Wow...I knew him in the Cowboy Country days."

Best of luck my friends!!