Dear Riley Grace,

Wow, wow, wow! I can't believe it's almost been a year. As of yesterday, you turned 11 months old! I seriously cannot believe it. I also cannot believe that last year at this time I was pregnant with you...and uncomfortable with still another month to go! This seriously has been the fastest year of my life!

I don't think much has changed since last month. Again, I love you more and more each day, but that's a given. :) You're still not walking yet, but you've stood by yourself a couple of times just for a few seconds. You seem to do it more when Daddy's around though. You are still eating Stage 3 Gerber foods and some baby yogurt and Gerber puffs. From what I read or hear, I should start branching out and giving you little pieces of meat and cheese and whatnot, but I'm scared. Whenever you try something new and are trying to figure it out, you tend to choke and it scares me to death. You did get some tiny little pieces of turkey on Thanksgiving, though. :)

Speaking of choking, let's talk about your Christmas photo session. Daddy and I had such a pretty scene in mind and what we wanted to do with our first photo session but we got to busy and canceled who we had scheduled and then were too busy to even fit one in with using a self-timer! We still might do it before Christmas, but I decided to take you out when Daddy didn't feel good one day and try myself. Bad idea. You loved the leaves on the ground and kept putting them in your mouth. Everytime I said, "No, Riley!", you would drop them but then try again. Well, one time you got one way in your mouth and I tried to scoop it out, but couldn't see it or feel anything. Ends up it was way in the back because you started tearing up and coughing and I did my best not to freak out. I picked you up, patted you hard on the back and first you coughed up some saliva and then when I patted you again, you COMPLETELY THREW UP all over me! This was not baby spit up, this was definite vomit! I didn't care because I knew you were OK. It was such a scare and I felt awful that it was just you and me and I will never do that again unless Daddy is with us or I take you someplace where there is NOTHING TO PUT IN YOUR MOUTH! Whew. I stress again just thinking about that. Lordy, I love you so much, little girl! I hate imagining anything bad happening to you. So, when I look at these pictures, I am thankful there were some cute ones before that scary incident, but they also remind me of that incident and it's not one of my favorite memories. :/ Oh, and something else...Grammy and Grampy were on a cruise and I cleaned out the majority of "unnecessary" items in my truck when I took them to the terminal the week before. This meant that I didn't have any of your blankets stashed under the back seats when I usually have two. When you threw up all over your dress and my sweatshirt, I had nothing really to wipe you off with (except wipes that would not do the trick) or put you in. I ended up taking off your dress (I didn't mind being covered in your puke, but I didn't want you to be covered in it...I already felt so bad!) and putting you in your car seat in just your tights, bloomers and shoes. You were a sad, funny sight. It was also cold that day so I cranked the heater up even though the park is not even a mile from us and drove home. You should have seen Daddy's face when he saw a half-naked little girl and a mommy covered in puke walk through the door. :)

You finished getting your H1N1 vaccine (you had two separate doses) and you had your first dentist appointment! The dentist and staff were really nice. He sent you an email (to mommy's account) and told you that he wished all patients were like you and even though it's probably sent to everyone, I'm sure he especially meant it with you. ;) That was REALLY nice of him since you cried the entire time he looked into your mouth. :)- The assistant then gave you a toy that made noise and everything was good in your world again. I wish that would be the quick fix forever!

Anyway, here are some pics from the scary photo session: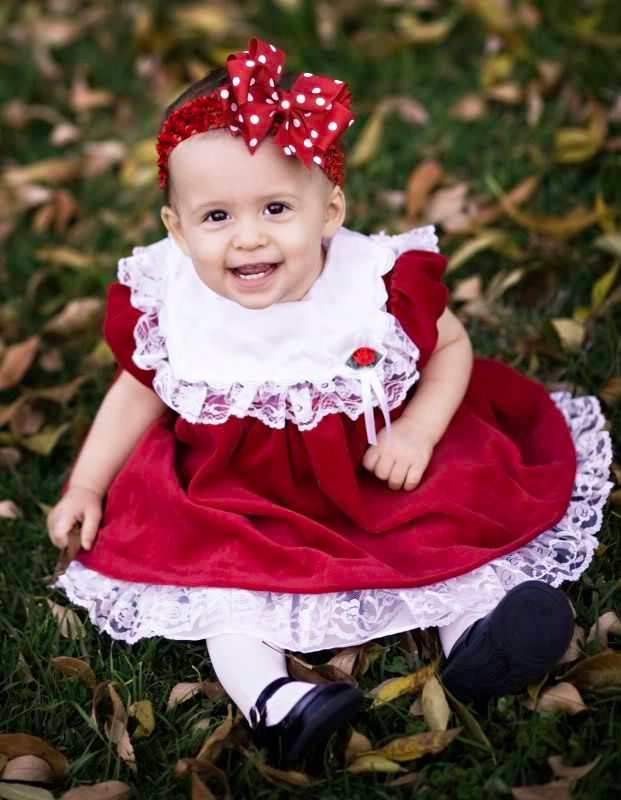 A quick snapshot from my phone before I put on your jacket to go visit Grammy and Grampy:



And we went and visited Santa last night and let's just say that you didn't feel like telling him what you wanted for Christmas. :) I think the guy thought I was crazy when I still wanted to buy the pictures, but I'm a firm believer in capturing the memory as it was and this is what it was. Daddy said you two have the same look on your faces! Ha!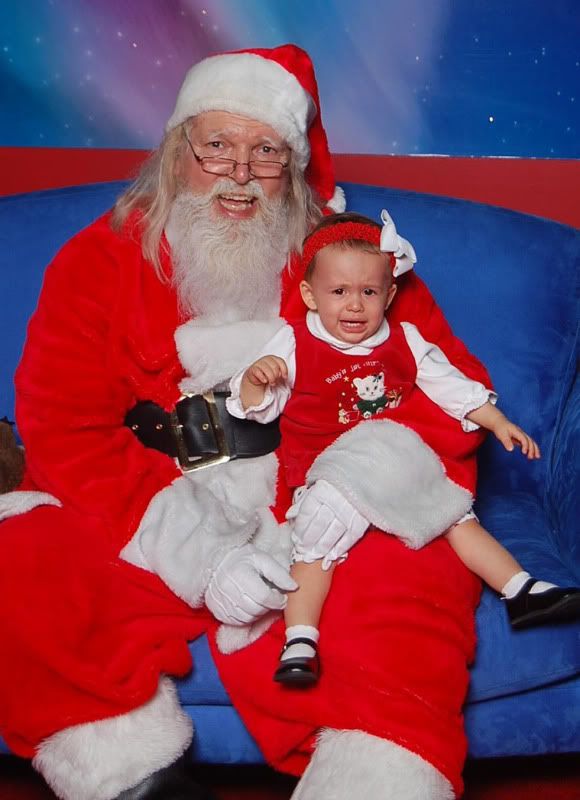 Happy 11 Months, Baby Girl! I love you soooooo much!!!!

Love,
Mommy