Al and I had our genetic counseling appointment and ultrasound today. I have been somewhat anxious about this. On one hand I felt that nothing would be wrong, on the other hand, I felt that if there was something wrong, it was meant to be and God doesn't give one so much that he/she can't handle. Though I am happy to report, that God blessed us with a healthy baby so far.

Ever since I sat down in the Dr.'s office around 7 weeks along, I've been concerned about being "high risk" (the Dr.'s and society's words). I knew there really wasn't anything in our family to be concerned about, but I've never had the greatest luck so I figured that I might be one of the "older" mothers that might be surprised with something. As time went by, I felt that everything was going to be fine, but you still think about it every so often.

We sat down with the genetic counselor and she went over my blood results. My chances for having a baby with Down's, Trisomy 18 and Smith-Lemli-Optiz Syndrome were considerably less than what they were "supposed" to be at my age. She said that I could compare the results of my blood tests to being the age of someone in my late 20's. That is MUSIC to my ears – especially if we try for another one.

I am so blessed and I must have thanked God a few times today. Without further ado, here's Baby Q! P.S. The technician said that you couldn't see anything in these sonograms that she gave us. For those of you who think you can, please do not share your thoughts with us. We have gone to great lengths NOT to find out the sex of our baby. :) You can also read Al's version of everything here!

First one is just a normal pose and second one he/she is lifting his/her arm: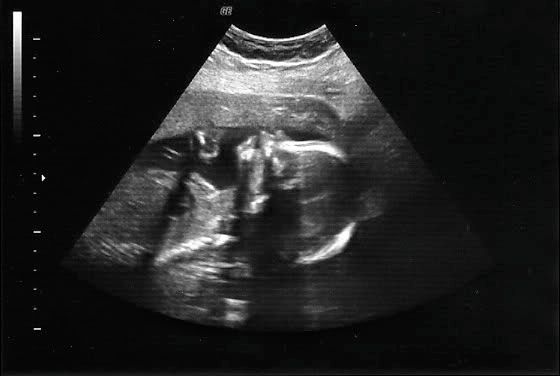 I LOVE this one – Baby Q is sucking his/her thumb! Look it at the little fingers!!!!! Wow!



I love this one too – a little foot action going on here! This foot is ADORABLE!!!! But I know I'm biased. My friend Geri said that since I love taking feet shots, Baby Q must have known that! LOL